King Sky

Voiced by

Alessandro Quarta (Original/Italian)
Matt Shively (Nickelodeon)

Age

21 (Season 5)

Birthday

March 20

Origin

Eraklyon

Affiliation(s)

Specialists, Red Fountain, Winx Club, Eraklyon

Weaponry

Longsword and Phantoshield

Relationship(s)

Erendor and Samara (parents)
Bloom (fiancé)
Brandon (squire, best friend)
King Sky is the king of Eraklyon, but for now he is the prince. He studies at Red Fountain and is one of the Specialists as well as the leader. He is Bloom's love interest.
Personality
Coming Soon....
Season 5
Coming Soon....

Appearance
Sky wears a yellow and navy blue hoodie over a long-sleeved blue shirt and a pair of white pants. He has dark blue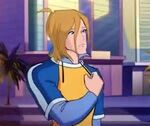 high tops, a pair of slip on blue sneakers with a light blue button down and brown shorts. He changes his hairstyle in the seasons.
Trivia
He is the only Specialists who came from monarchy rule.
He and Bloom are the only ones to have exes in the series.
He and his squire, Brandon are the strongest among the specialist.
Even though they're friends, Sky has a strong rivalry with Riven.